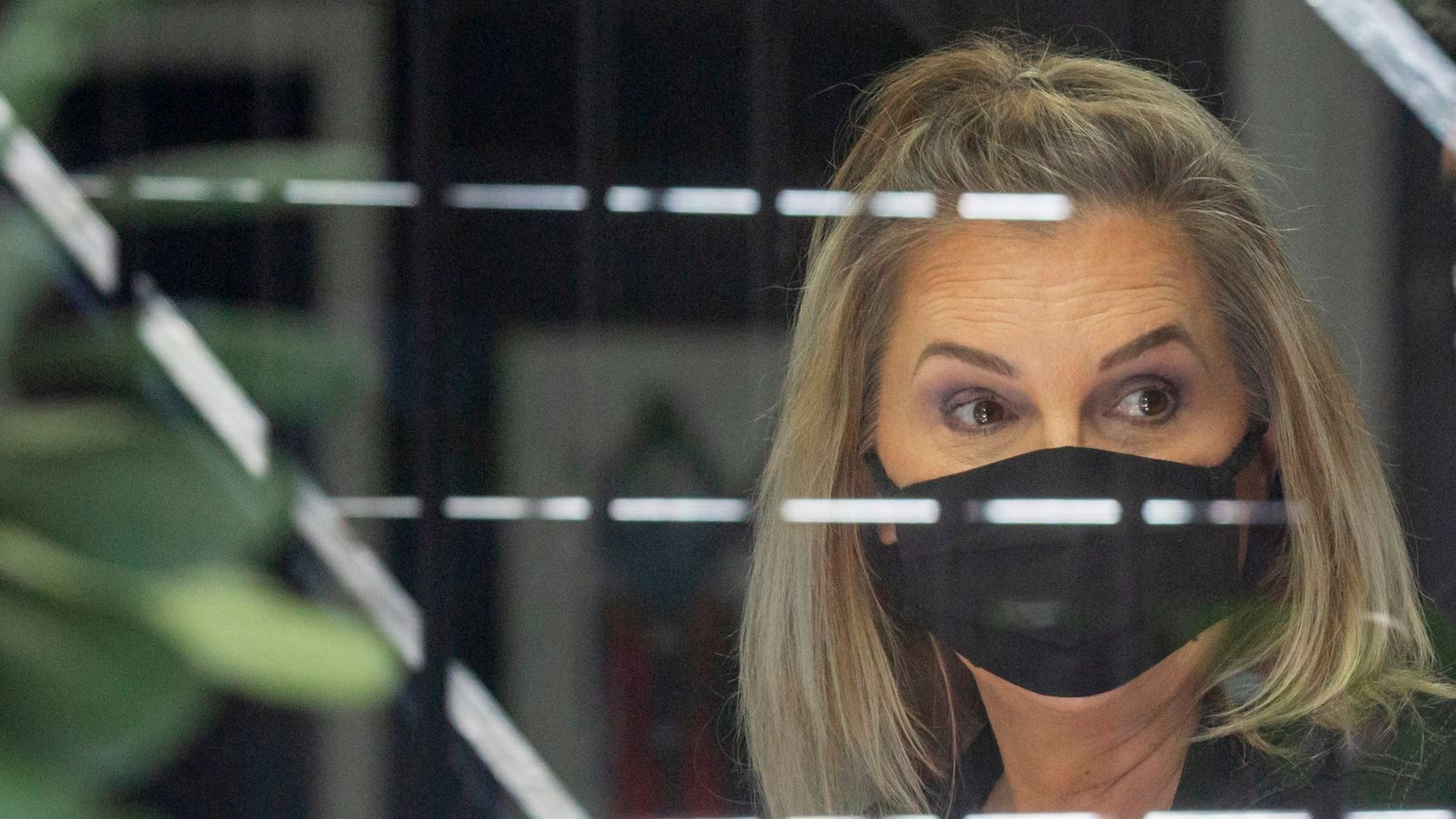 Several prominent Texas conservatives on Wednesday rallied to the defense of Shelley Luther, the Dallas salon owner who was fined and sentenced to seven days in jail for intentionally violating an order to shutter her business during the COVID-19 outbreak.
Gov. Greg Abbott, who's reopening hair salons on Friday after deeming them nonessential for weeks, said Shelley's sentence was "excessive," adding that "jailing Texans for non-compliance with executive orders should always be the last available option."
"Compliance with executive orders during this pandemic is important to ensure public safety," said Abbott, a Republican who issued one of the orders defied by Luther. "However, surely there are less restrictive means to achieving that goal than jailing a Texas mother."
Texas Attorney General Ken Paxton, also a Republican, called Luther's sentence "outrageous" and demanded that she be released from jail, while Lt. Gov. Dan Patrick, another Republican, offered to pay Luther's $7,000 fine or even serve out Luther's sentence under house arrest.
Those views were echoed by the likes of U.S. Sen. Ted Cruz, a Republican, U.S. Rep. Dan Crenshaw, R-Houston, and U.S. Rep. Chip Roy, R-Austin, along with a group of conservative activists who on Wednesday gathered in Dallas to protest Luther's punishment.
That feedback appeared to do little to deter state District Judge Eric Moyé, the Democrat who sentenced Luther.
He released a letter late Wednesday to Paxton from him and 11 other state district judges serving in Dallas County, accusing the attorney general of "most inappropriate and equally unwelcome" conduct for urging Luther's release.
"It is contrary to the concept of an independent Judiciary and offends the tradition of separation of powers for any member of the Executive Branch of Texas government to interject itself into the proceedings of the judicial branch," the judges wrote.
They continued: "For the sake of ALL of the citizens of Texas, please let the Judicial process play out without any further interference."
Some Democrats also accused their Republican counterparts of hypocrisy.
"Salon owner sentenced to 7 days in jail = outrage," state Rep. Joe Moody, D-El Paso, wrote on Twitter. "Ignoring the plight of thousands of inmates in jails and prisons in TX = business as usual. I'm growing weary of the righteous indignation of folks who never once gave a second thought to the incarcerated."
State Rep. Gene Wu, D-Houston, noted the disparities in the treatment of minorities in the criminal justice system. "I wish black and brown people could be offered the chance to apologize instead of going to jail," he wrote on Twitter.
The episode spotlights some of the powerful undercurrents in the Lone Star State's evolving debate over how government should respond to the pandemic: Texas individualism vs. law-and-order sensibilities. Public health vs. economic viability. Too little action vs. too much.
Abbott, for instance, has faced criticism from some Democrats for moving too quickly in re-opening the state and pushback from some Republicans for not moving with enough alacrity.
Luther's salon has provided a high-profile flash point, highlighting both the struggles many small businesses have faced due to shelter-in-place orders and the ...