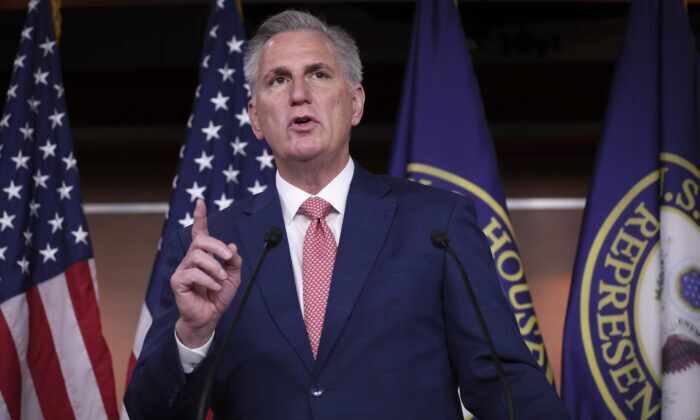 Republicans will immediately move to reverse the Biden administration's hiring of 87,000 IRS agents if they flip the House of Representatives in the upcoming midterm elections, the top Republican in the lower chamber said on Sept. 23.
"On that first day that we are sworn in, you will see that it all changes," House Minority Leader Kevin McCarthy (R-Calif.) told a crowd in Pennsylvania. "Because in our very first bill, we are going to repeal 87,000 IRS agents."
"Our job is to work for you, and not go after you," he added.
The Inflation Reduction Act, approved by Democrats in both chambers and signed by President Joe Biden, included funding for 87,000 additional IRS workers.
"In all of my years in Congress, I have not had a phone call from anyone saying 'Steve, please add more people to the IRS,'" House Minority Whip Steve Scalise (R-La.) said at the Pennsylvania event, dubbed the "Commitment to America."
"If there are 87,000 people needed in America, it's at the border to secure America's border. Not at the IRS to go after ..."