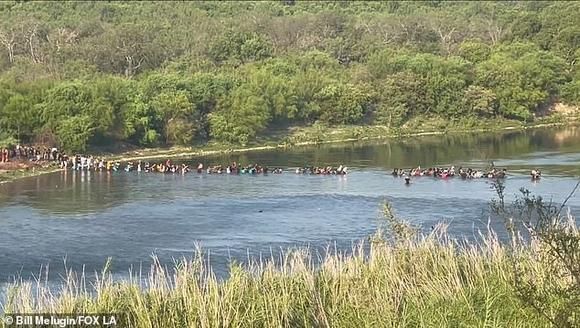 New footage shows a massive mob of hundreds of migrants lined up crossing the Rio Grande in Eagle Pass, Texas in what Fox News reporter Bill Melugin described as 'one of the most massive single groups we have ever seen.'
Border agents have reprehended a record number of migrants in recent months. As resources are stretched thin, migration figures continue to swell.
'One of the most massive single groups we have ever witnessed cross illegally at the border is crossing into Eagle Pass, TX right now. The line of people went so far into the trees it's hard to get a count. Hundreds upon hundreds. Coyotes guiding them in water,' Melugin wrote on Twitter with aerial footage of the string of migrants stretching all the way across the Rio Grande.
Nearly 26,000 migrants were apprehended by Texas-area Customs and Border Patrol (CBP) agents in under a week, a Monday report states.
The figure is the total number of arrests across five regions of the US-Mexico border within the six-day period ending on July 9, according to ...