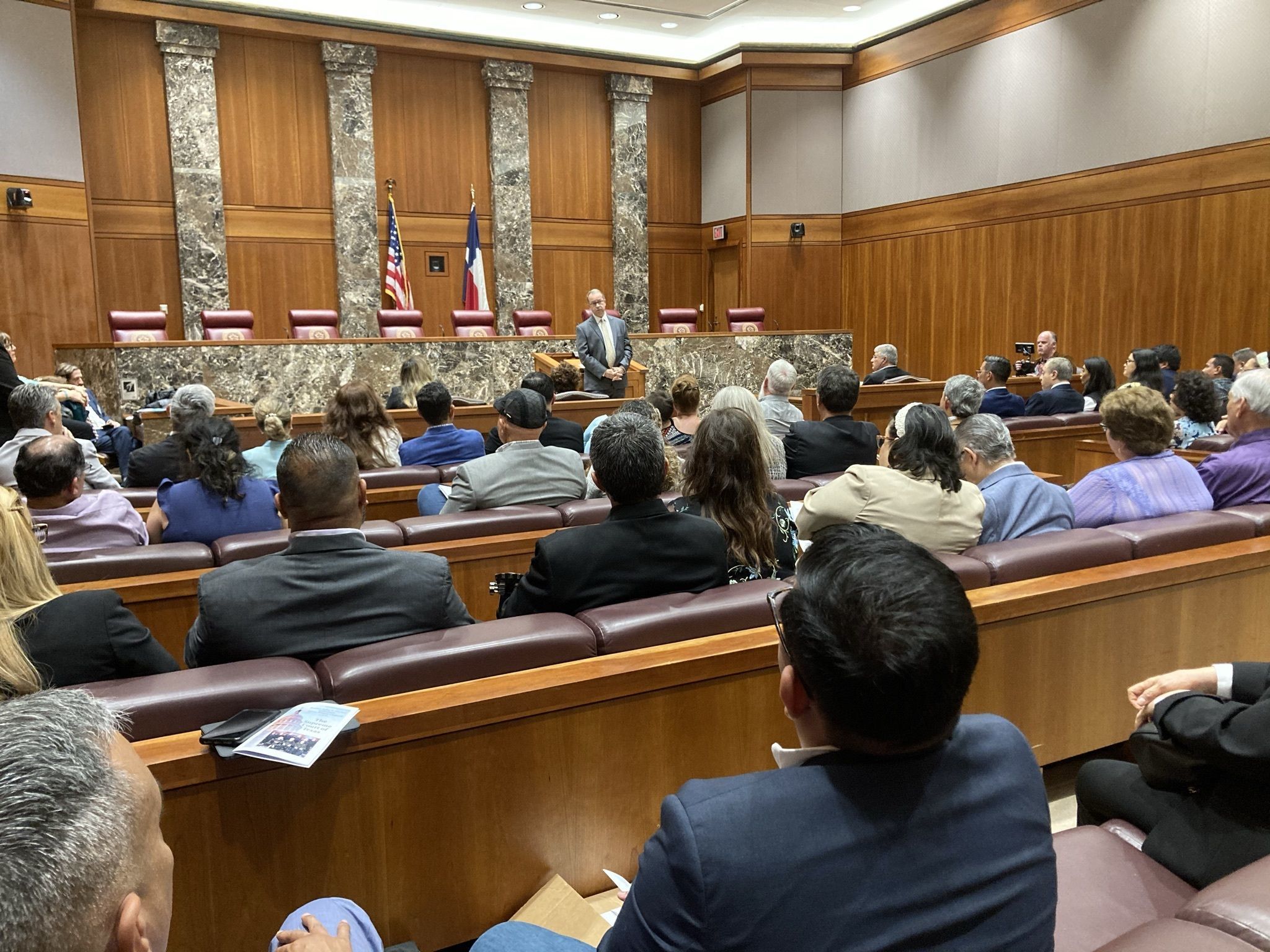 Over one hundred pastors from cities ranging from Midland to Waco, Austin, San Antonio and greater Houston registered for a special Hispanic summit at the Texas State Capitol on May 5, with a program that was led by Governor Greg Abbott.  Pastors gathered first in the Extension Auditorium and kicked off the day with Dr. Hernan Castano, Director of Hispanic Church Development for USPC as moderator and opening prayer by Pastor Hanoi Avila, Co-Chairman of Austin Area Pastor Council.
TXPC President Dave Welch gave an overview of the ministry, the basic mission to "restore godly citizenship as a functioning ministry of every Bible-teaching church" as well as how local pastor councils organize and connect together through TXPC.  John Seago, Legislative Director of Texas Right to Life gave an excellent summary of the likely impact in Texas policy if Roe v. Wade were to actually be overturned as the leaked draft from the U.S. Supreme Court seems to indicate.
First Assistant Attorney General of Texas Brent Webster followed with a presentation about how the TAG office works in general and a summary of some key cases past and current to defend life, religious freedom, dysfunctional and aggressive federal government overreach and more.
Former State Senator and Chairman of Liberty for the Kids, Kent Grusendorf then gave a compelling and encouraging update on the increasing support for parental choice in education, including a powerful video that included former U.S. Secretary of Education Rod Paige.  Melissa Conway, working with the Republican National Committee on Election Integrity, wrapped up the morning sessions prior to the Governor with some powerful information as to what is happening to defend the honesty and accountability of our election system.
Governor Greg Abbott enthusiastically thanked the pastors for coming and getting involved, gave an update on some key issues ranging from the border crisis, protecting the Texas economy and the victory of the Heartbeat bill as well as making strong comments supporting parental choice with funding following the students.  Luncheon featured a dialogue with Dr. Castano and Pastor Mark Hernandez of the Hispanic Pastor Action Network on the vital role of Hispanic churches.
The program closed with a trip the the Texas Supreme Court building and a wonderful briefing on court procedures by senior Justice John Devine, a dynamic champion of constitutional principles, life and liberty.  The day closed with a beautiful dinner cruise on Lady Bird Lake for the pastors.