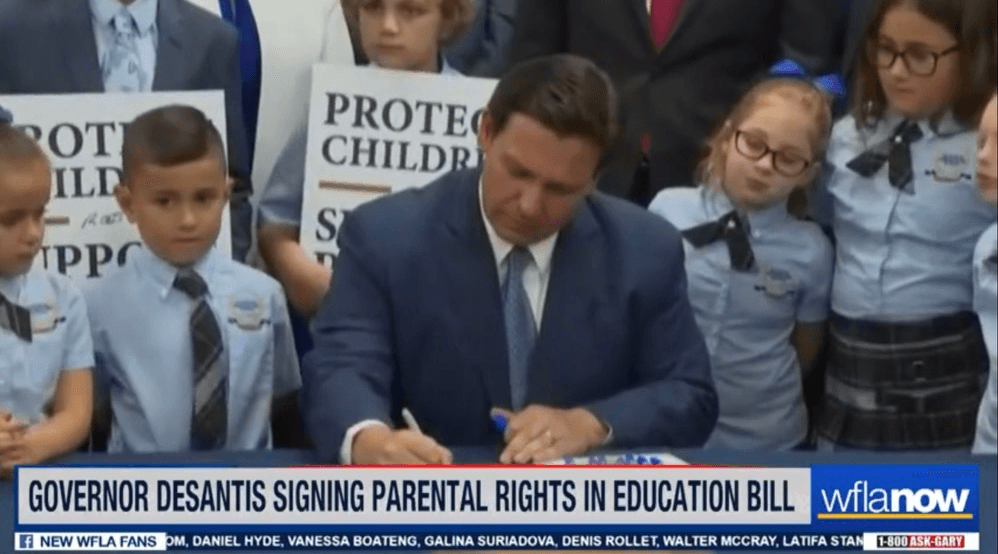 (Springhill, FL) Gov. Ron DeSantis signed a parents' bill into law this afternoon which has seen national opposition from LGBT activists, the media, the Disney Corporation, and the White House itself. The law prohibits schools from officially instructing students about sexual orientation and gender identity through K-3rd grade, ages 5-9. It also protects parental rights and requires parents to be notified of any changes affecting their child's mental, physical, or emotional well-being or health. In addition, it forbids school districts from withholding information from parents. In a desperate attempt to demonize the commonsense bill, the left has dubbed it the "Don't Say Gay" bill.
Throughout the legislative session, opposing groups repeatedly made deliberately false allegations about the legislation's content, and pro-LGBT groups even launched a televised ad campaign asking people to call Disney to publicly oppose the parental rights bill.
Disney CEO Bob Chapek in turn called on DeSantis and met with him to oppose and veto the bill, but DeSantis responded privately and publicly by saying that he is committed to parents' rights and would not cave to Disney's woke demands. Afterwards, Disney said they would increase support for the LGBT movement by giving the Human Rights Campaign (HRC) $5 million, but the DC-based "gay" group rejected the funds saying that Disney had not ...