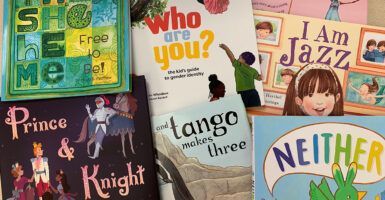 Warning: Some content may be inappropriate for children. 
Children are learning about gay marriage, preferred pronouns, and gender identity, thanks to woke children's books.
"I have a girl brain, but a boy body," the book "I Am Jazz" says. "This is called transgender. I was born this way." 
"I Am Jazz" was published in 2014 and authored by Jessica Herthel, a transgender rights advocate, and Jazz Jennings, the honorary co-founder of the TransKids Purple Rainbow Foundation and star of the TLC reality-TV show "I Am Jazz." 
The book is based on the true story of Jazz Jennings, a male who from a very young age identified as a female. 
"I Am Jazz" has received a number of awards, including the American Library Association's Rainbow Project Book List Award in 2015. It was one of the first woke kids' books to crash onto the children's literature scene, but it certainly has not been the only one. 
If one searches for "I Am Jazz" on Amazon and then scrolls down to "similar books," you will find an array of children's stories promoting the LGBTQ agenda.
"Children are being increasingly targeted with sexual content in schools under the guise of 'comprehensive sexuality education' or 'inclusivity,' Jared Eckert, a research assistant in the DeVos Center for Religion & Civil Society at The Heritage Foundation, told The Daily Signal in an email Tuesday. (The Daily Signal is the news outlet of The Heritage Foundation.)
Beyond the sexual messages of the books being inappropriate for children, there are also mental health concerns involved ...