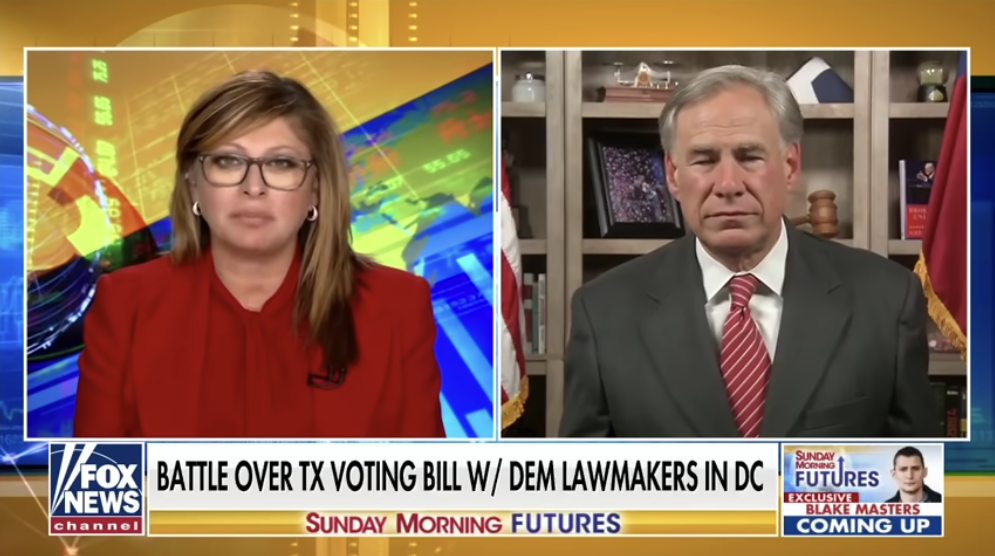 Anyone planning to cross the border illegally into Texas could soon have second thoughts — and plenty of time behind bars to think them over, Republican Texas Gov. Greg Abbott said Sunday.
During an appearance on Fox News' "Sunday Morning Futures," Abbott criticized the Biden administration for letting border safety deteriorate.
"First of all, I will tell you, listen, this is the — one of the most reprehensible actions by the Biden administration. First, if you recall, under the Trump administration, they pretty much had cross-border illegal immigration shut down," Abbott told host Maria Bartiromo.
Then came Biden.
"All that Biden had to do was to continue the Trump policies, and we would have no problem on the border whatsoever. But now it's getting worse because Biden is opening the floodgates for people who are coming from countries where there's an extremely low vaccination rate, and there's an extremely high number of people coming across the border who do have COVID," he said.
"But, second, so what Texas is doing, we're not playing games anymore," he said.
"I have deployed the National Guard, as well as the Texas Department of Public Safety. And we have a new program in place, because the Biden administration plan is to catch and release," he said,
"The Texas plan is to catch and to jail. So we are arresting and jailing. The program has already begun. It took a few weeks to set up, because ..."