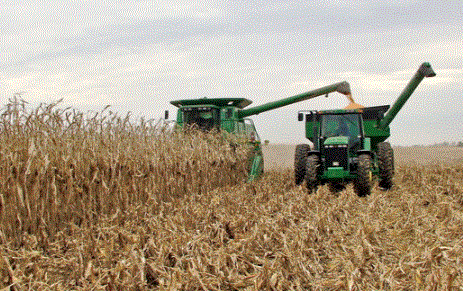 The Bible teaches the idea of private property. While God created all things, and thus all property is His (Ps. 24:1-2), He gave to man the stewardship of His property (Ps. 115:6). The Eighth Commandment – "you shall not steal" (Ex. 20:15) – implies private property rights. The Tenth Commandment, not coveting your neighbor's property (Ex. 20:17), implies individual ownership of property, as does the law, "You shall not move your neighbor's boundary mark" or property boundaries (Deut. 19:14; Deut. 27:17). God's law requires restitution to be made to the property owner by the thief (Ex. 22:1 ff; Prov. 6:30-31).
Jeremiah bought a field from his cousin. He signed a deed with witnesses after paying money for it (Jer. 32:1-16). This was a sign that houses and land would again be possessed by Israel (for the Chaldeans had captured it). We see private ownership and the free market here.
The New Testament affirms private property rights as well. The parable of laborers in the vineyard (Matt. 20:1-16) teaches that the landowner could do what he wished with his own things: "Is it not lawful for me to do what I wish with my own things?" (Mt. 20:15). The early church in Jerusalem voluntarily sold their property to help those in need. Peter affirmed the ownership and individual control of the property of Ananias and Sapphira: "While it remained, was it not your own? And after it was sold, was it not in your own control?" (Acts 5:4).
The Family Has the Right to Own and Govern Property
Ownership of property in Israel was primarily for the benefit of the family. Families in Israel were given land (Joshua 12-31) as a permanent possession (Lev. 24:10). Parents are to leave an inheritance (including possessions and property) for their children (Prov. 13:22; 2 Cor. 12:14; Pr. 19:14). God intends for families to be the primary manager of His property. The family is the primary institution to take dominion (Gen. 1:26-28) and to do this it must own and control land and other types of property.
Noah Webster considered the principle of property as foundational for the freedom of America. This idea was expressed in his essay written in support of the Constitution:
The liberty of the press, trial by jury, the Habeas Corpus writ, even Magna Charta itself, although justly deemed the palladia of freedom, are all inferior considerations, when compared with a general distribution of real property among every class of people. The power of entailing estates is more dangerous to liberty and republican government than all the constitutions that can be written on paper, or even than a standing army. Let the people have property and they will have power – a power that will forever be exerted to prevent a restriction of the press, and abolition of trial by jury, or the abridgement of any other privilege.[1]
Webster worked to preserve this principle at every level. He recognized that property rights not only included external things, such as land, houses, and merchandise, but also internal property, such as ...