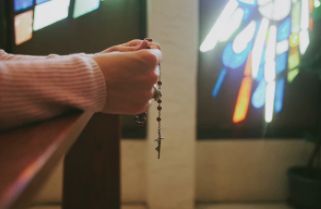 In February, I attended a World Marriage Day celebration at my church—an annual mass for couples throughout our diocese celebrating silver and gold wedding anniversaries. Except for priests and other altar officiants, I was the only unmarried person there. Normally, I'd run for the hills rather than attend an event where I'd feel like a sore thumb in the midst of anything approaching those odds. But this time, I volunteered to be there, and I'm glad I did.
I serve on the church's Lector Guild. A few weeks before the marriage celebration, our organizer emailed the group and requested two volunteers to read the Old and New Testament passages for the day. I instantly recoiled at the thought. Seconds later, I wrote back and offered to serve. The realization had dawned on me that the very things we are often called to do are those we fear the most. And for me, being in that sanctuary among dozens of adoring couples celebrating their enduring nuptials was one of them.
Like my parents and grandparents before me, I'd always thought I'd reach these milestones, too. But, as I've described on this blog, shortly after my 20th anniversary, my ex-husband had an affair and filed for divorce. Our divorce became final in 2009.
Two years ago, I'd attended this same celebration by happenstance. I usually went to the earlier mass, but on that particular Sunday, I was running late. Pre-COVID, the marriage event was combined with the usual 11:30 a.m. mass, and I'd stumbled into a packed church. Although I'd healed from my divorce, I quickly became overwhelmed by my emotions.  
Ultimately, that mass was an uplifting experience. As a new Catholic, it gave me the opportunity to learn more about Catholicism's sacramental view of marriage. At the end of the service, I smiled and clapped along with everyone else, but a piece of my heart was still attuned to my own feelings of sadness and envy. I probably spent more time mourning my own loss than rejoicing for others.
The following year, I avoided the service altogether. Now, given a third chance, I decided to embrace the possibilities head-on. Due to COVID distancing precautions, this time it would be a separate, dedicated mass for couples celebrating their milestones.
So on that Sunday a few weeks ago, 72 couples from various communities throughout Georgia gathered at the Cathedral Basilica of St. John the Baptist in downtown Savannah. The men wore suits; the women, dressed in their finest, pinned white corsages to their attire. The organ sounded. Priests and officiants proceeded down the center aisle toward the altar. The Bishop was clad in a flowing green robe and white ceremonial headdress called a miter, which he later removed to reveal a hot pink zucchetto, an ecclesiastical skullcap. I stood with the other masked congregants as we sang "Love Divine, All Loves Excelling," the most famous of Charles Wesley's hymns. 
When it came time for the scripture reading, I stepped up to the lectern and looked out at the sea of married couples before me. "Brothers and Sisters," I began, reading from a portion of the ninth chapter of St. Paul's letter to the church at Corinth. In an instant, those simple words formed a communion between me and those from whom I had long felt separated.
Resisting the urge to tear up, I read on. Paul examined his purpose as an apostle. Borne out of his conversion experience, he concluded it was his duty to share the gospel to Jews and Gentiles alike. "[W]oe to me if I do not preach it," he said.
Not long after my divorce, I wrote a popular article about how I'd tried and failed to save my marriage. The hate mail I received from this article stunned me. When a national radio show asked me for an interview, I was too scared to call back. My youngest daughter—age 14 at the time—said, "You're always telling me not to worry so much about what other people think." She suggested I had a decision to make, either continue writing about my beliefs or ...