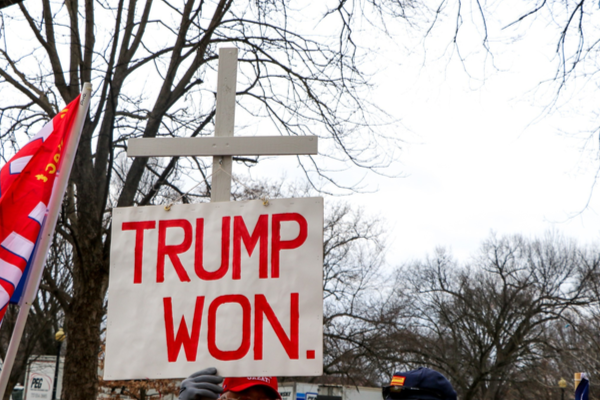 NOTE BY REV. DAVE WELCH - The following article ran in Sojourners, a left leaning evangelical magazine founded by liberal evangelical Jim Wallis (served on President Obama's White House Advisory Council on Faith-based and Neighborhood Partnerships).  The bias is evident in the title and in the text in typical ways such as writing that I said that legitimate frustration over very evident vote fraud "led to the "frustration" and "lawlessness" seen at the Capitol".  She failed to include that I started the comment by asserting the we didn't know yet who the actual perpetrators were and were likely led by Antifa plants.  Our USPC commentary above reflects a more complete perspective, yet this article is instructive as a reminder to read all such "news" and articles with your discernment on high and biblical worldview engaged.
WASHINGTON, D.C. — As pro-Trump rioters broke into the Capitol on Wednesday to stop members of Congress from certifying the results of the 2020 election, some evangelical leaders denounced the violence — including elected representatives who continued to support President Donald Trump's debunked claim that the election was "stolen."
"Every American has the right to exercise their First Amendment rights, but violence and destruction are never the answer," Rep. Jackie Walorski (R-Ind.) tweeted shortly after the Capitol was locked down. "Stop these attacks on our country now and keep the protests peaceful."
"The violent rioting on Capitol Hill is appalling and must stop!" Rep. Vicky Hartzler (R-Mo.) also tweeted in condemnation. "This is thuggery and violators must be punished to the fullest extent allowed under federal law."
In the days leading up to the certification, both Hartzler and Walorski had pledged to object to the certification of the electors' votes in Arizona and Pennsylvania. Though some members of Congress withdrew their objections after the attack on the Capitol and urged Trump to accept defeat, both Hartzler and Walorski were among those who maintained their objection.
Early Thursday, Congress voted to certify the electors' votes, confirming Joe Biden as the 46th president.
Other pro-Trump evangelical leaders condemned the violence, but blamed the situation on anxiety over President-elect Joe Biden's inauguration and continued to express unsubstantiated claims about election fraud.
"It's deeply disturbing that we have a large rally that has turned into semi-violent protests," said Dave Welch, a pastor and the Texas-based president of the U.S. Pastor Council, a conservative evangelical organization dedicated to restoring "Christ-centered citizenship" and known for campaigning against LGBTQ rights. "I don't think anybody reasonably wanted to see this," he told Sojourners.
Welch, who has supported Trump throughout his presidency, said that he and many other evangelicals have legitimate concerns about election fraud that have largely been ignored. This led to the "frustration" and "lawlessness" seen at the Capitol this week, he added.
Welch also accused Biden and the Democratic Party of using a liberal agenda "to silence churches and take away freedoms from those who believe in traditional family."
The evangelical vote played a significant role in electing Trump in 2016 and has remained a stalwart of support throughout his presidency. Outspoken evangelical Trump supporters, including Trump campaign donor Mike Lindell and televangelist Mark Burns, participated in the protests leading up to the attacks; some carried large crosses or religious texts while they breached the Capitol complex.
But even some of his most devout supporters have said they disagree with his latest attempts to question election results.
Evangelical senators like Sen. Tim Scott (R-S.C.) and Sen. John Thune (R-S.D.) have supported Trump throughout his term but now want the president to accept ...