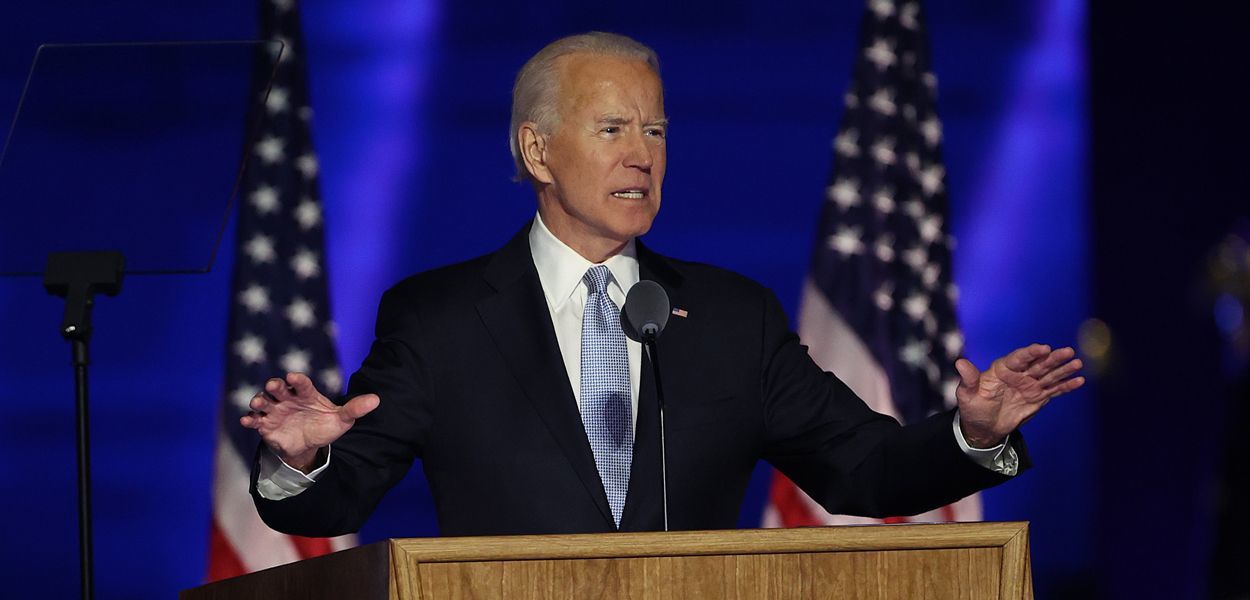 Amnesty for illegal immigrants, taxpayer funding for abortions, and a transition from using oil for energy were key to former Vice President Joe Biden's campaign for the White House.
Biden laid out many policy proposals during his campaign to unseat President Donald Trump, which major media outlets called in the Democratic challenger's favor Saturday even as ballot counting and litigation continued.
Trump has not conceded the fiercely fought contest, and his campaign team said it intends to pursue legal challenges Monday across several closely contested states.
"Now that the campaign is over, what is the people's will? What is our mandate?" Biden said in what was billed as a victory speech Saturday night in Wilmington, Delaware, adding:
I believe it is this: Americans have called on us to marshal the forces of decency and the forces of fairness. To marshal the forces of science and the forces of hope in the great battles of our time.

The battle to control the virus. The battle to build prosperity. The battle to secure your family's health care. The battle to achieve racial justice and root out systemic racism in this country.
Implementing is always tougher than promising, and Biden appears not to have brought along a Democratic majority in the Senate on his way to the White House, although the chamber's final makeup awaits two run-off elections in Georgia on Jan. 5. Democrats will remain in control of the House, although by a narrower margin as Republicans made gains.
Even with a narrow win, though, Biden likely will push his campaign agenda. Here's a look at some of those policies.
1. Taxpayer-Funded Abortion
Early in his campaign, during the summer of 2019, Biden vowed to do away with the Hyde Amendment, a law that prevents Medicaid funds from being used to pay for most abortions. It's a law Biden previously supported.
The law is named for the late Rep. Henry Hyde, R-Ill.
Past presidents and members of Congress, regardless of their stance on abortion, have supported the Hyde Amendment. 
Only in 2016 did the Democratic National Convention platform call for an end to the Hyde Amendment.
2. Amnesty, No More Wall Funding
Biden has a broad immigration agenda that is quite different from Trump's.
Potentially the biggest reversal from the Trump administration is ending the national emergency that Trump declared in early 2019 to use Defense Department dollars to pay for construction of a wall on the U.S.-Mexico border.
Biden also said he wants to secure the Obama-era Deferred Action for Childhood Arrivals policy, which protects illegal immigrants who first entered the United States as minors from being deported. 
The Trump administration attempted to reverse former President Barack Obama's executive action creating DACA, but the Supreme Court intervened and stopped him on technical grounds.
Biden also said he would rescind the Trump administration's "extreme vetting" of travelers from several majority-Muslim countries in the Middle East seen as terrorism risks.
Biden's campaign also called for a "road map to citizenship for the nearly 11 million people" in the United States illegally.
3. COVID-19 Board
During the campaign, Biden said he wants to set up a Pandemic Testing Board modeled after the War Production Board that President Franklin Roosevelt established during World War II.
The campaign plan says the board would run a national effort to provide diagnostic and antibody tests for COVID-19, the disease caused by the new coronavirus; coordinate distribution to every state; identify testing sites and provide sufficient training personnel; ensure adequate lab capacity and swift reporting of results; and provide clear guidance on who needs a test.
In his speech Saturday night, Biden said he would name "a group of leading scientists and experts" on Monday as transition advisers to help turn the campaign's COVID-19 plan into "an action blueprint" to implement Jan. 20, which is Inauguration Day.
"We cannot repair the economy, restore our vitality, or relish life's most precious moments—hugging a grandchild, birthdays, weddings, graduations, all the moments that matter most to us—until we get this virus under control," Biden said.
"I will spare no effort—or commitment—to turn this pandemic around," he said.
The Biden campaign said the Pandemic Testing Board should have members from the public and private sectors as well as state and local leaders. 
4. Green Economy
Biden did not endorse the "Green New Deal" supported by the far-left wing of the Democratic Party, but has backed elements of alternative energy and talked about phasing out the use of ...