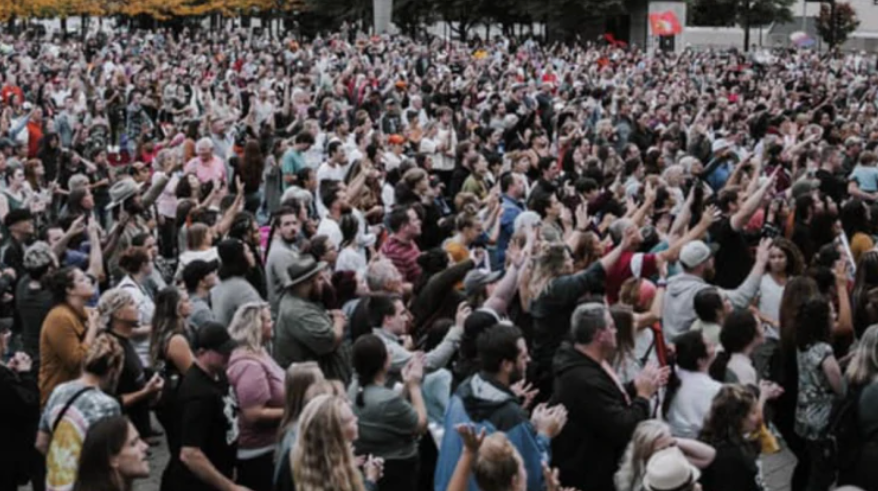 Nashville's Metro Public Health Department said it is investigating a "Let Us Worship" prayer event that was held outside the city's Metro Courthouse on Sunday that attracted about 10,000 worshipers, a report said.
The event was reportedly led by Sean Feucht, a religious author and recording artist. He issued a statement Tuesday on Twitter that accused Nashville of "selectively" targeting Christians for "harassment and punishment."
He pointed out that on the same day the event took place, the World Health Organization reversed its policy on lockdowns.
"There's no need for an investigation here," he said. "Thousands of Christians gathered together responsibly and peaceably to sing and pray in accordance with the First Amendment, because we are tired of government officials telling us when, where, and how we can practice our Faith."
Brian Todd, a spokesman for the city's health department, told News Channel 9 that the department is "very concerned by the actions that took place at the event and we are investigating and will pursue appropriate penalties against the organizer."
Nashville is considered to be in the coronavirus "red zone" and has a transmission rate of 1.11, which health officials called unsatisfactory, according to Fox 17.
The report said that the transmission rate shows that each person with the virus infects more than one other person. The city has had 284 deaths from the virus and 154 are hospitalized.
News Channel 9 reported that the city's police department was not given advanced warning about the event and the health department said Feucht did not apply for a permit. Reports also said that those in attendance on Sunday were not wearing masks and disregarded social distancing guidelines.
Feucht used his Twitter account to criticize reports about the Sunday event. He posted a video of ...