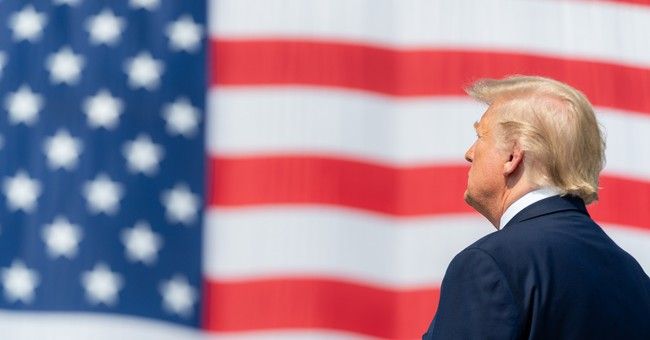 President Trump receives non-stop criticism in the press. I agree that criticism is necessary when a president makes mistakes, but where are the voices expressing appreciation for the good things Trump has done? It's unfair to always criticize and never recognize any of the good things a president has done.
It might be a refreshing change to recall some of the remarkable, nation-changing good things that Trump has accomplished for America. Here is my personal list. 
Because of space limitations, I have not given extensive arguments explaining why I think these actions are good for the United States. But more extensive arguments can be found in my books Christian Ethics, Politics According to the Bible, and The Poverty of Nations.
1. Judges: Trump has appointed two Supreme Court justices, 53 federal appellate judges, and 146 District Court judges (as well as two judges for the Court of International Trade) who have been confirmed by the Senate so far. In addition, 64 more have been appointed and are awaiting Senate confirmation. All of them are committed to interpreting the Constitution and laws according to the original meaning of the words, rather than according to what a modern liberal judge thinks the law should have said.
As an evangelical Christian, I am glad to see that Trump's two Supreme Court appointments have already been responsible for highly significant cases that increase religious freedom, such as the decisions (1) to allow state aid that is given to non-religious schools to be given also to religious schools (Montana decision); (2) to protect the right of religious schools to hire and fire employees based on the school's religious convictions; and (3) to allow religious groups to be exempt from government regulations that would otherwise cause them to violate their consciences in matters of birth control (and, by implication, probably in matters of abortion and same-sex marriage, but that has not yet been tested).
2. Historic tax cuts and deregulation: After eight years of high unemployment and meager growth under President Obama's administration, the Trump tax cuts of 2017 and Trump's extensive canceling of excessive government regulations on businesses have given a tremendous boost to the American economy. An estimated 25,000 pages of regulations have been canceled, resulting in a savings of $3,100 per household per year. Another result of tax cuts combined with deregulation has been the addition of thousands of new jobs, so that unemployment (before the coronavirus crisis) fell to the lowest point in 50 years, and unemployment among African-American and Hispanic workers was the lowest it has ever been in history.
On election day, 2016 (11-8-16), the Dow Jones Industrial Average closed at 18,332.74. 
This afternoon (8-21-20 at 2:29 p.m.) it stands at 27, 898.82, which is an increase of 52% in 3.5 years, even including several months of the coronavirus epidemic. This is remarkable. 
These economic changes affect ordinary people's everyday lives, not just wealthy people. Tens of thousands of people who were unemployed have recovered the dignity of steady employment (including getting paid during the coronavirus crisis). Millions of ordinary Americans whose retirement savings are partially invested in the stock market (including my wife and me) are finally receiving some protection and even growth in their savings.
3. Building a stronger U.S. military: Reversing the massive budget cuts that had seriously weakened our military under the Obama administration, President Trump has increased military spending by nearly $150 billion per year from $605 billion in 2016 to $750 billion, steadily rebuilding U.S. military readiness.
4. Protecting unborn babies: Numerous executive orders have increasingly restricted government funding for abortions (such as the reinstatement of the Mexico City policy). On February 22, 2019, the Trump administration announced that it would not allow organizations that provide referrals for abortions to receive federal family-planning money, which implies a cut in funding for Planned Parenthood (the nation's largest abortion provider) unless they perform abortions in a separate facility and not refer patients to it. And on May 2, 2019, the Trump administration's Department of Health and Human Services issued a new rule protecting healthcare workers who decline on the basis of conscience or religious conviction to participate in procedures such as ...