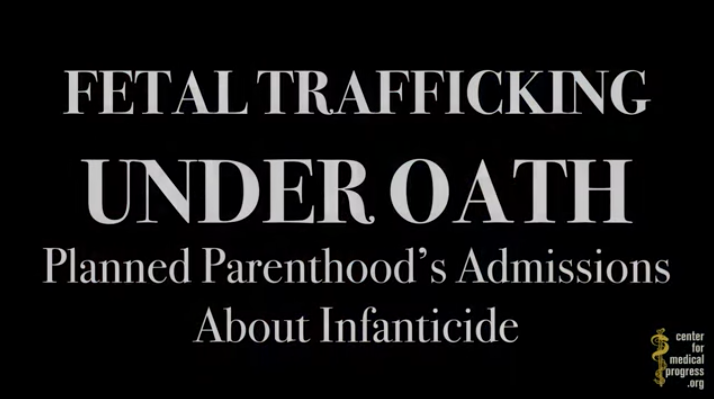 Newly obtained testimony shows Planned Parenthood Federation of America (PPFA) officials and a tissue procurement company admitting that infants were either born alive or showed signs of life, such as a beating heart, after leaving the mother during abortions.
The testimony came as part of PPFA's civil suit against activist and Center for Medical Progress founder David Daleiden, who claimed the organization and one of its procurers, Advanced Biosciences Resources (ABR), benefited from infanticide. Released Tuesday, Daleiden's compilation of depositions showed Jon Dunn, a PPFA executive, plainly admitting on camera that his affiliate in California saw an infant born alive and then die "seconds" after the child left the mother's womb.
"I know they kept it warm and comfortable for the very brief period that it was alive. I don't think there was even time to call 911. It was a matter of seconds," Dunn said. Neither Dunn nor PPFA responded to Fox News' requests for comment.
Dunn estimated that the incident occurred about 20 years ago, but other depositions in Daleiden's video indicated that live births may happen at such clinics multiple times a year.
Dr. Deborah Nucatola -- the medical director who infamously discussed "crush[ing]" fetuses in a way that would yield intact tissue -- told Daleiden's attorney she was "sure" she'd seen nonviable fetuses exit the uterus. By nonviable, she meant "not capable of survival."
Nucatola said she didn't recall seeing various signs of life in these cases (movement, indication of breathing and a beating heart). Perrin Larton, ABR's tissue procurement manager, similarly admitted to knowledge of fetuses leaving the mother, sometimes "intact" or with closed abdomens. That generally occurred "once every couple of months," she said, and in those cases, ABR would perform a dissection to obtain the desired tissue.
Although ABR has worked with PPFA for years, Larton claimed she'd never heard of deliveries like that happening at a PPFA affiliate. Larton also maintained that the fetuses weren't alive, but admitted seeing hearts that were "beating independently."
"There are -- I can see hearts that are in -- not in an intact POC [product of conception] that are beating independently, but they're not attached to anything," Larton said in a transcript reviewed by Fox News. POC is a term used to describe the fetus or its body parts.
But, according Dr. Forrest Smith, an OB-GYN who's performed thousands of abortions, both Nucatola and Larton provided answers that indicated they or their employees witnessed live births.
"I sincerely hope Ms. Larton never comes to understand the implications of her seeing detached hearts beating independently because then she would have to confront the realization that with intact fetuses that just 'fell out,' she was actually vivisecting and killing a living fetus," Smith told Fox News.
Larton did not respond to Fox News' multiple requests for comment. Planned Parenthood, where Nucatola has worked as a medical director, also did not respond to multiple requests.
Daleiden's video came amid a broader debate about late-term abortions and the level of care infants deserved to receive if ...