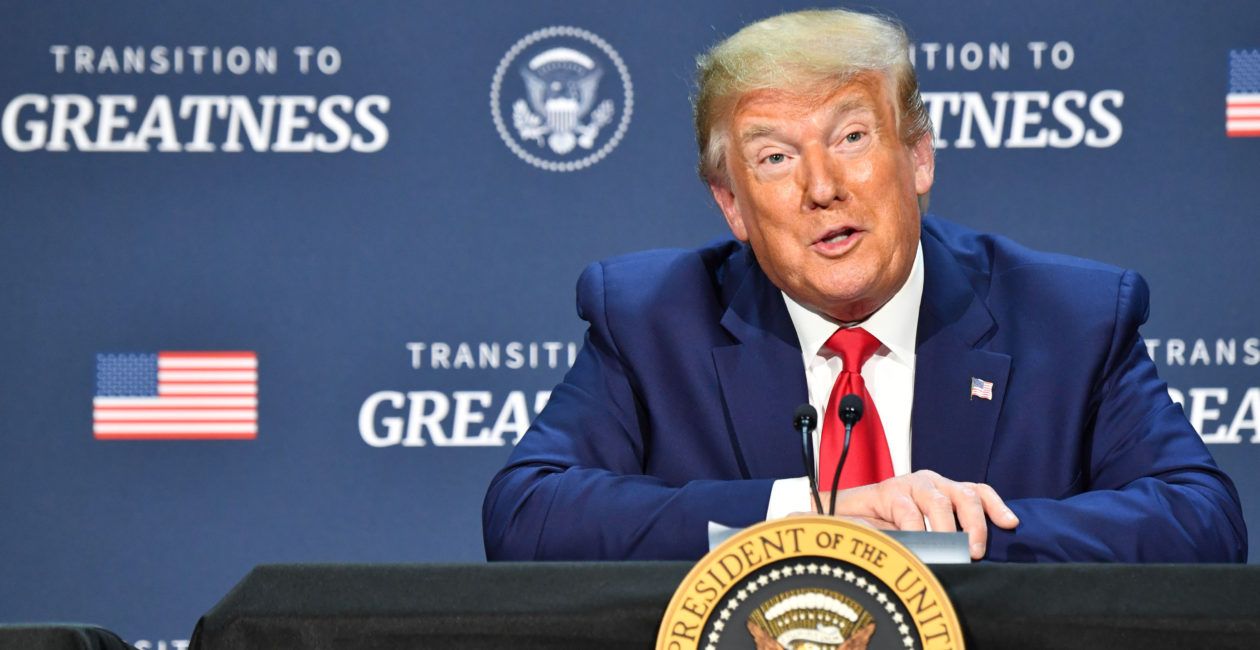 The Trump administration had established a commission on reforming police well before the death of George Floyd in police custody in Minneapolis pushed the subject to the top of the national debate. 
Last October, President Donald Trump signed an executive order creating the Presidential Commission on Law Enforcement and the Administration of Justice. He tasked the commission with looking at how to improve police  departments' community relations and how a lack of respect for law enforcement affects public safety and the rule of law.
"With this commission, you're going to see so many reforms come out of it. It could not have come at a better time," commission member Frederick Frazier, a 24-year veteran of the Dallas Police Department, said at a roundtable discussion Thursday with Trump and other administration officials in Dallas. 
"We can't take back what happened in Minnesota. Not one officer that saw that—or federal officer that saw that—said that was the right thing that happened," said Frazier, who is also a member of the city council in nearby McKinney, Texas.
"We condemn it," he said of Floyd's death at the hands of police during an arrest. "If I could have trade places with Mr. Floyd, I would, because I would die for everyone in this room, because that's our job."
This prompted applause from the audience as Frazier added: "And if I could trade places with any one of those officers who were there, I would have done that too, because I wouldn't have let that happen."
The commission already has conducted nine hearings, held 35 panels, heard from 125 witnesses, and taken 190 written statements, Frazier said. 
The executive order for the commission seemed to address at least some of the issues being talked about in the wake of Floyd's death with regard to helping underserved communities. 
The reforms will include national standards, Trump said during the Dallas event as he announced that more executive actions are on the way.
"We're working to finalize an executive order that will encourage police departments nationwide to meet the most current professional standards for the use of force, including tactics for de-escalation," Trump said. "Also, we'll encourage pilot programs that allow social workers to join certain law enforcement officers so that they work together."
Although reforms are in order, Trump was clear on one point. 
"We're not defunding police," the president said. "If anything, we're going the other route: We're going to make sure that our police are well trained, perfectly trained, [and] they have the best equipment."  
Attorney General William Barr, who chaired the meeting Thursday, indicated that some responsibilities shouldered by police officers could be changed as part of the reforms. 
"More and more, our police are being asked to deal with problems that haven't previously been the problem of law enforcement," Barr said. "They have to deal with homeless people. They have to deal with a lot of mental health issues. They have to deal with, you know, drug addiction, the drug addicts, and so forth.  And providing some additional support to the police in these areas is going to be important."
At least some elements of the "Defund the Police" movement are calling for total abolition of police forces and replacing them with social workers. 
Trump's executive order says the commission will examine "challenges to law enforcement associated with mental illness, homelessness, substance abuse, and other social factors that influence crime and strain criminal justice resources."
House Democrats announced legislation on police reforms in response to Floyd's death, a second-degree murder charge against former officer Derek Chauvin and charges of aiding and abetting second-degree murder against the other three fired officers involved.
Among other things, the bill would ban chokeholds and no-knock warrants, mandate dashboard cameras for police vehicles, establish a national police misconduct registry, and make it easier to prosecute officers and sue individual officers.
Barr said the Trump administration, through the commission's actions, has been moving for a while toward relevant reforms. 
"We've never had a president who is more committed to reforming law enforcement," Barr said of Trump at the Dallas gathering, noting that he was the first president to establish a police reform commission since President Lyndon B. Johnson, a favorite son of Texas.   
The White House notes that the Trump administration also restored Project Safe Neighborhoods, a partnership among federal, state, and local law enforcement agencies to help reduce violent crime in communities around the country. 
During the Trump administration, murder and other violent crime fell for two consecutive years, according to the White House. The number of murders in America's major cities declined by more than 10%.
"We're working on a number of things through the commission that he set up and also through an executive order to propel that process even faster by looking at how we can encourage the adoption of guidelines about the use of force that are acceptable, both to the community and to the police profession," Barr said. 
Barr cited reforms that Trump already has made, such as signing the First Step Act, a sweeping criminal justice reform law that eliminated the "three strikes" life-sentencing provision for some offenses and expanded judges' discretion in sentencing for nonviolent crimes. More than 90% of those benefiting from retroactive sentencing reductions in the new law are ...