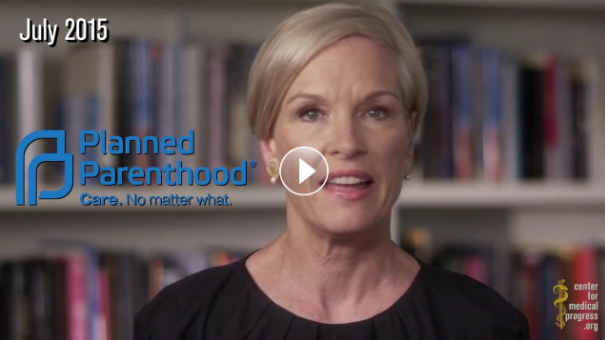 Contact: David Daleiden, media@centerformedicalprogress.org, 949.734.0859
IRVINE, May 26–The Center for Medical Progress, whose undercover videos exposed Planned Parenthood leadership negotiating the harvesting and sale of aborted fetal body parts, released a new video today featuring Planned Parenthood officials' sworn videotaped testimony about the sales.
The new video release documents the Planned Parenthood officials' admissions, which came in Planned Parenthood's own retaliatory lawsuit over the undercover footage and contradict Planned Parenthood's public claims about both the undercover videos and the abortion provider's fetal tissue research programs. The testimony was unsealed this spring.
The video shows how Planned Parenthood Federation of America, while under investigation in 2015, told Congress that its Gulf Coast affiliate in Houston had "rebuffed" an undercover proposal to sell fetal livers for $750 per liver and $1600 for liver/thymus pairs. But Planned Parenthood Gulf Coast's Senior Director of Abortion Access, Tram Nguyen, testified that she "wanted to move forward with it," as documented in contemporaneous emails between her and PPGC's Regional Director Dyann Santos.
The video also features sworn testimony from Dr. Dorothy Furgerson, the longtime Chief Medical Officer of Planned Parenthood Mar Monte, the largest Planned Parenthood affiliate in the country. Dr. Furgerson signed PPMM's contract with StemExpress to sell fetal body parts to StemExpress per specimen "determined in the clinic to be usable", and Dr. Furgerson's endorsement appears on a StemExpress brochure handed out at National Abortion Federation meetings advertising "fiscal[] rewards" and "financial profits" to the abortion clinics who provided fetal tissue to StemExpress. When asked if the purpose of the brochure was "to obtain more potential sources of fetal tissue," Dr. Furgerson testified, "Yes, I understood that that's what they were trying to do."
The video shows StemExpress paid Planned Parenthood solely based on the number of "usable" samples that StemExpress could harvest from PPMM's abortions, at least an extra $65 per abortion if the customer ordered a fetal organ plus a blood sample. PPMM does over 17,000 abortions a year, and unsealed invoices show PPMM making $25,000 in just 3 months from StemExpress. When asked how much money an abortion clinic could make per year from selling fetal body parts, the founder and CEO of Planned Parenthood partner Advanced Bioscience Resources, Linda Tracy, was forbidden by her lawyer to answer.
The video also includes testimony from Dr. Deborah Nucatola, the Senior Director of Medical Services for PPFA from the first undercover video release. When asked when she first found out about Planned Parenthood affiliates "receiving payments for fetal tissue", Dr. Nucatola testified ...