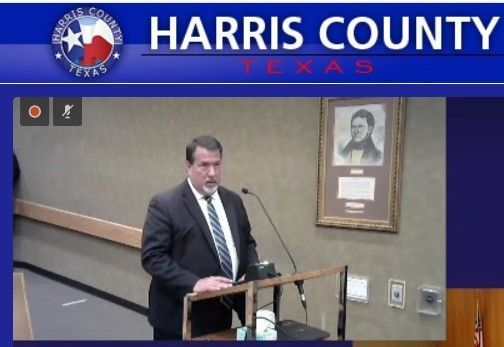 I witnessed a display of dysfunctional, socialist, elitist government in action this week that I'll have to say tops anything I have witnessed in thirty-six years of observing, speaking at and/or testifying before elected bodies from school board to Congress.  On Tuesday, June 29 I joined every elected Constable in Harris County at Harris County Commissioners' Court to push back against a major act of defunding them by the Democrat majority on the court.
(NOTE:  I'm not even going to comment in this article on a major centralization of power by the creation of new layer of bureaucracy for Harris County government through a new position of County Administrator, support staff and structure inserted between the people and our elected commissioners. This was passed 3-2 also that day by the Democrat majority in the face of massive public opposition. Where is the millions of dollars for this coming from?  It appears some or even much of it from law enforcement.)
For a number of years Harris County government has operated with a "rollover" provision that if an agency did not spend all the money in their annual budget, the surplus could be rolled over into the next fiscal year and used to reduce the amount of tax dollars needed to fund the same budget.  Almost every Constable in the county managed their budget to achieve a surplus each year and a rollover amount that has funded vehicles, programs and uniformed personnel.
Imagine that, an incentive system for a government agency to be frugal and fiscally responsible – and it worked!
All Constables presented their fiscal year 2021 budget that was approved by the County Commissioners on March 1, with the rollover funding included as they had done before.  Then, in a Clintonian-style action a week later the Democrat majority (County Judge Lina Hidalgo, Commissioners Adrian Garcia and Rodney Ellis) retroactively stripped away the rollover funds from each Constable and dumped them in the general fund, leaving each Constable with an underfunded budget.
They decided that the Constables were "squirreling money away" and "leaving funds on the shelf" that they the oligarchy could better decide how to spend.
County Commissioners Jack Cagle and Tom Ramsey called this out and because we have mobilized our pastors to connect with, minister to and stand with our law enforcement consistently, we were compelled to do so and stand with them.  I and the Constables arrived at the court building before the 10:00 am start time and through repeated acts of blatant disrespect for the Constables (including a FOUR HOUR break for Hidalgo to go have a photo op with First Lady Jill Biden) our agenda item finally came up FOURTEEN HOURS later, at midnight.
Judge Hidalgo immediately turned the blame back on the Constables. She ignored and argued against the facts and data presented by the Constables and was very clearly either incapable of or abjectly unwilling to hear the simple truth; that at best she and the Count Budget Office had failed to communicate the change in policy before they actually did it or, at worst, intentionally misled every single Constable because they were united in their experience.  They are also by the way, divided between Republicans and Democrats, Hispanic, Black and White.
Thankfully, SB 23 that was authored by Senator Joan Huffman, passed the legislature and signed into law by Governor Greg Abbott to create push back against defunding police at the local level.  That pressure and the exposure of this to the public placed the offending Commissioners in a position that they committed to working with Constable to restore much or all of needed funding.
Our collective voice and role as a broad and wide coalition of pastors or "every color, every corner" is vital to restoring righteousness, justice, safety and order to every community and city!
WATCH VIDEO OF CONSTABLES AND REV. DAVE WELCH REMARKS BEFORE COMMISSIONERS' COURT
https://harriscountytx.new.swagit.com/videos/123550  (Constable testimony begins at mark 9:40:58 and Rev. Welch from 9:46:30 – 9:50:10)