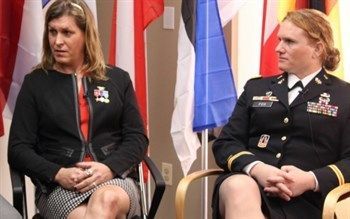 A military watchdog says the U.S. armed forces deserve better treatment than witnessing President Joe Biden reverse the Trump administration and allow transgenders to openly serve in uniform.
Secretary of Defense Lloyd Austin has announced the reinstatement of the Obama-era directive that benefits military personnel who are transgender, meaning they mentally identify as the opposite sex and thus suffer from mental health issues.
Elaine Donnelly, president of the Center for Military Readiness, tells One News Now the new Democrat administration is demoralizing our armed forces with far-left "woke" policies that deny common sense.
"And that also weaken military readiness and morale," she warns.
Donald Trump reversed Barack Obama's directive via a Twitter post (pictured below) in July 2017, reportedly surprising his generals despite stating he did so after "consultation with my generals and military experts."
Nearly three years later, President Biden's transgender reversal is just one sign of the Pentagon's leftward drift after just four months into the new administration. One News Now reported in a March 24 story that the Pentagon ordered every branch of the armed forces, and every unit, to sit through a left-wing PowerPoint presentation warning military members about embracing "extremism" that was defined as "espousing ideologies that encourage discrimination, hate, and harassment against others."
That policy would presumably include officers and enlisted personnel who are overheard echoing Donnelly's complaints about the transgender policy, such as second-guessing the Pentagon for recognizing "International Transgender Day of Visibility" as it did on March 31.
"Their shared stories of struggle and heartache," Secretary Austin wrote in an official memo, "reminds us that more work needs to be done to ensure that every person is treated with dignity and respect no matter how they identify."
Barack Obama signed an order allowing ...