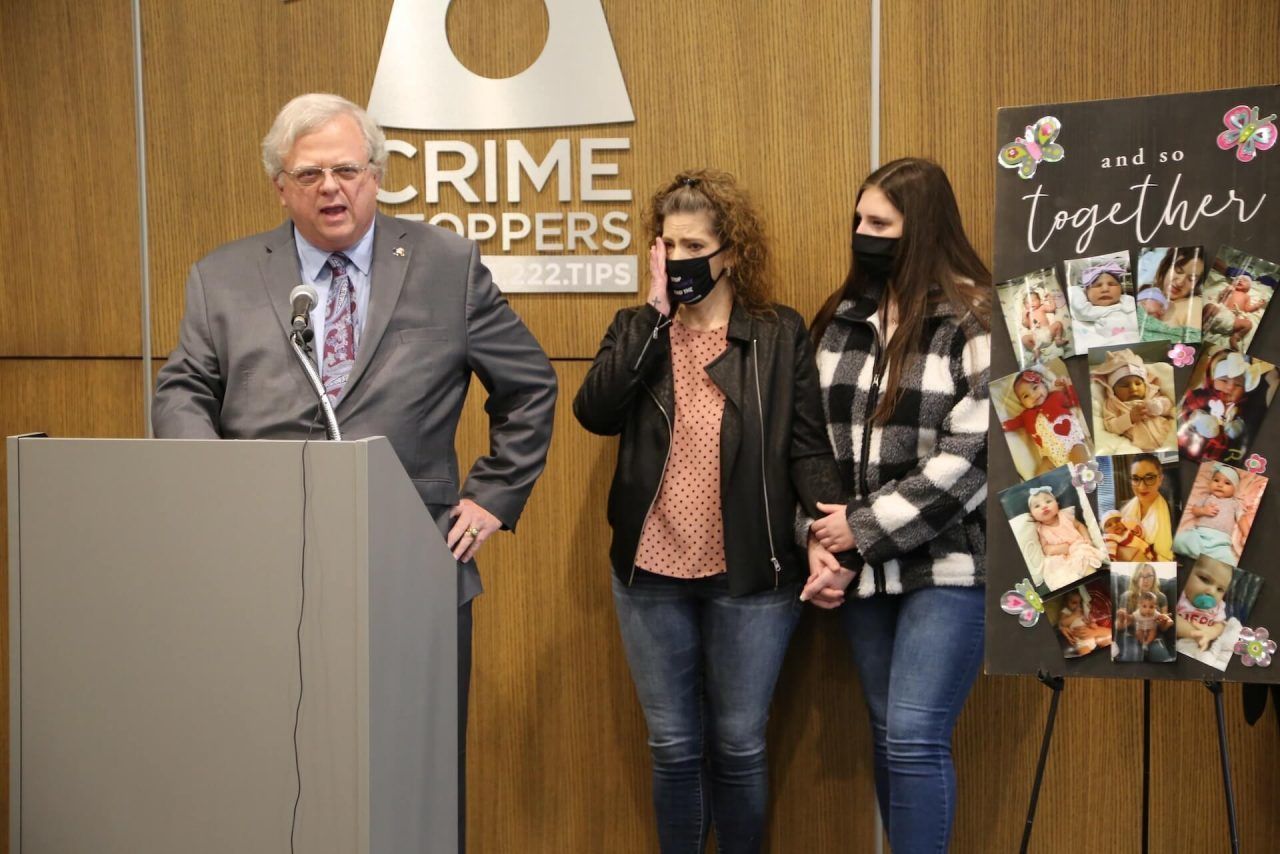 At a Monday press conference at Crime Stoppers Houston, Melanie Infinger offered an emotional recounting of the circumstances surrounding the murder of her daughter Caitlynne Guajardo.  
Infinger explained that 20-year-old Caitlynne was four months pregnant with her second child when she filed charges against her husband Alex Guajardo after he allegedly hit her in the face and killed her pet cat by submerging the animal in a bag of bleach.
Since Guajardo, 22, had already been released on personal recognizance (PR) bonds for two DUI charges and a hit-and-run, the family believed that the criminal justice system would detain him for Caitlynne's safety, but Harris County Criminal Court 4 under Judge Shannon Baldwin ordered his release on yet another PR bond.
Less than 24 hours later Guajardo was re-arrested and charged in the stabbing death of Caitlynne and her unborn child.
After learning that her daughter's killer had been let out on PR bond, Infinger said she could not believe what had happened.
"I was livid. I was angry, and I knew that my daughter's death was preventable," explained Infinger. "I knew that the rest of my days I was going to fight to make sure a change was made in her name….to make sure this doesn't happen to anyone else."
In response to the Caitlynne Guajardo story and an increasing number of homicides in the county allegedly committed by suspects released on low-dollar felony or PR bonds, state Senator Paul Bettencourt (R-Houston) announced at Monday's press conference that he has filed "Caitlynnne's Law," legislation crafted to address the problem in the county and statewide.
"This situation has to stop," said Bettencourt. "And while we're filing a bill today…I'm calling on the judges of Harris County to stop this today."
While misdemeanor bail policies in Harris County are largely governed by the settlement terms of a federal lawsuit known as ODonnell v. Harris County, felony bail is still set by elected judges or appointed magistrates.
Over the past few years, Harris County's judges and magistrates have become increasingly lenient in setting bonds and release conditions for felony suspects, and on numerous occasions suspects released have been re-arrested for additional felony offenses, including murder. 
According to Andy Kahan, Victim's Advocate for Crime Stoppers, more than 90 people have been murdered by suspects released on multiple or PR bonds over the past two years in a trend that predates the COVID-19 pandemic.
Kahan noted that just in the past week law enforcement officers with both the Harris County Sheriff's Department and the Houston Police Department had been shot by defendants out on multiple felony bonds.
If passed, Catilynne's Law would prohibit magistrates from releasing a defendant on a PR bond for offenses committed while out on an existing PR bond, or on a felony offense when two or more other felony charges are pending against the defendant.
The legislation would also set a $10,000 minimum amount of bail per offense in felony cases where the defendant is accused of three or more felonies.
The Texas Constitution guarantees the right of bond to a defendant, so Bettencourt's bill works within that constraint. Changing the law to outright deny bonds would require the passage of a new state constitutional amendment.
Growing concern over felony bond practices in the county has drawn bipartisan support for ...