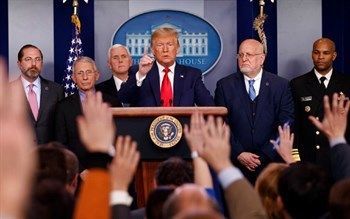 Consistent with his comments since 2015, the head of the Southern Baptist Convention's Ethics & Religious Liberty Commission is calling for President Donald Trump to resign – and says if he were in Congress, he'd vote to impeach.
ERLC leader Russell Moore has been in the "never-Trump" camp for the entire four years of Trump's presidency, as well as the year or so before when Trump was campaigning for the White House. In a Twitter post last Friday, Moore said the days between now and the inauguration of President-elect Joe Biden will be dangerous – and called on Trump to step down. Then on Monday he penned an op-ed saying if he were a member of Congress, he'd vote to impeach.
"This is not about politics. This is about our country, about the rule of law, and about the sanctity of human life," Moore wrote. "The President invited mobs to Washington – promising a 'wild' time – and told them to march to the Capitol …. It is not true – and it never was true – that this election was stolen."
Radio talk-host Janet Mefferd contends that Moore is at odds with a large percentage of Southern Baptists.
"… Before Donald Trump was ever elected, [Moore] was extremely critical of Donald Trump," Mefferd begins. "He has a whole history of making, at times, snide remarks about the president. So, he's been a never-Trumper from the beginning."
Mefferd says Moore's op-ed is hardly a missive with brilliant reasoning. "All he does in the entire piece is set up straw men and then knock them down," she shares. "Nobody I have talked to who is a Trump supporter believes that those rioters were in the right."
And the radio host wonders why Moore is speaking out now, and where he was when the government was shutting down Southern Baptist churches under the guise of the coronavirus.
"Russell Moore went for months not seeming to want to comment whatsoever on the dire circumstances that churches across the nation were facing as they were shut down and prohibited from worshipping freely in their congregations," Meffered concludes. "He was writing about country music and doing podcasts and discussing Johnny Cash. He was nowhere – and that's actually his job."
Meanwhile, a Christian attorney and policy expert explains that if the House of Representatives votes to impeach Donald Trump, that doesn't mean he's removed from office. The issue would then go to the Senate, where members of the House will act as prosecutors and the senators will be a jury that decides whether to find the president guilty as charged.
Even though some Republican senators are not happy with the riots that happened last week at the Capitol, Abraham Hamilton III – general counsel for American Family Association – doesn't think the Senate will ...