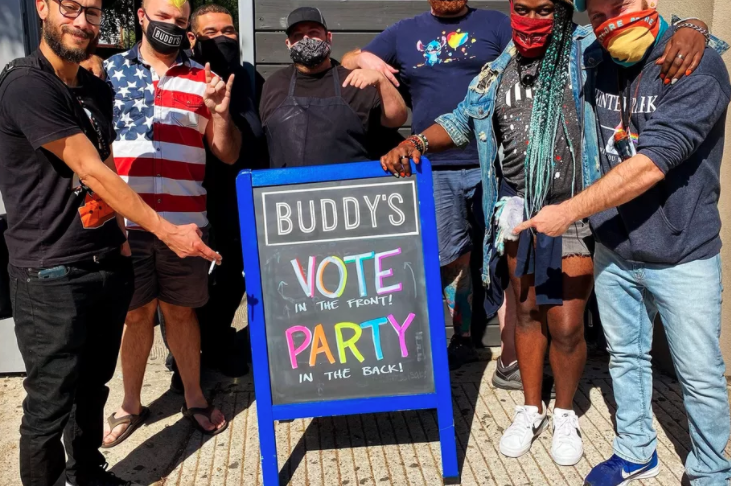 A Montrose drinking establishment might have been the first LGBTQ+ bar in America to have served as a presidential polling place on Election Day.
Buddy's, a gay bar at 2409 Grant Street, welcomed about 200 voters on Tuesday, said Christopher Barry, the bar's owner. Voters were treated to music by DJ Melle Mel on the back patio, music on the jukebox inside, and an impromptu drag show by Joy to the Polls. Harris County Clerk Chris Hollins even stopped by for a few minutes to talk to voters and poll workers.
The theme of the day was "Vote in the Front, Party in the Back," Barry said. While Buddy's bartenders were unable to serve cocktails inside the establishment, which housed 14 voting booths, customers could order drinks on the patio outside. In the evening, the bar's TVs were turned on so that people could watch the returns. Barry said more and more excitement built throughout the day, until people realized they "were't going to go to be anytime soon."
Barry said he believed Buddy's was the first LGBTQ+ bar in the world to serve as a polling place for a Presidential election. However, a bar in San Francisco, The Eagle, also hosted voters on Election Day. But even if Buddy's wasn't the first in the world, it was certainly the first in Texas.
Barry said he first got the idea to serve as a polling place about four months ago, citing the role that gay bars have played historically in community- and movement-building. Having a gay bar serve as a polling place was a way to signal that ...