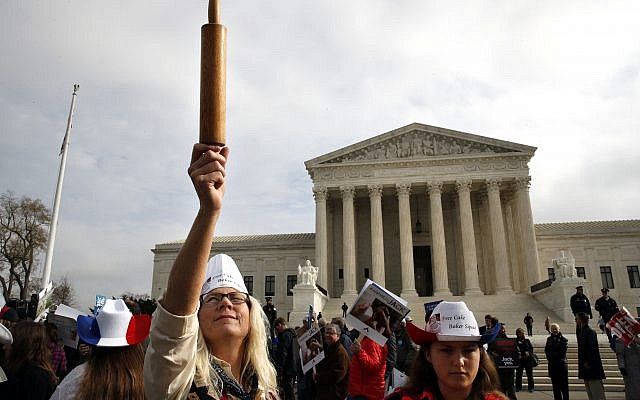 WASHINGTON — Forcing a religious baker to make a wedding cake for a gay couple is like coercing a Jewish baker to make a cake with a swastika on it — at least according to the Chicago Tribune's editorial board.
Citing the argument of the baker's lawyers that making a cake amounts to expressive activity and is thus a form of constitutionally protected speech, the paper published an editorial on Thursday referencing a 1978 case in which the Supreme Court decided a New Hampshire motorist had the right to refuse having a license plate with the state's slogan "Live Free or Die."
"To be forced to create a cake for a same-sex wedding is a similar burden," the article asserted. "Imagine a Jewish baker being required to put a swastika on a cake."
The article was immediately castigated by civil rights leaders, including Jonathan Greenblatt, who heads the Anti-Defamation League.
"The Tribune should know better: Nazis are not protected by anti-discrimination laws!" he tweeted. "To compare baking a cake for a gay couple to baking a cake with a swastika is beyond offensive and hateful to the LGBTQ community."
The editorial was in response to a hotly contested Supreme Court case that heard oral arguments on Tuesday.
The case involves a Colorado baker, Jack Phillips, who refused to make a wedding cake for a gay couple, David Mullins and Charlie Craig, when they visited his bakery, Masterpiece Cakeshop, in Lakewood, Colorado, in 2012.