Petition to Preserve the Altar of Joshua in the Holy Land!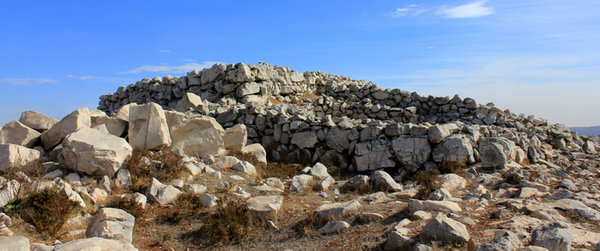 Dear Christian Pastors and Leaders:
It has been revealed that the Palestinian Authority is engaging in destruction of and around the ancient site of Joshua's Altar on Mt. Ebal in Samaria, the heart of the Holy Land.  This 3200 year-old site is a historically irreplaceable treasure and is under the jurisdiction of the Israeli military (IDF) to protect.  Credible voices from Christian leaders in the U.S.A. are needed to cry out and appeal for the preservation of this profound site at which the Ark of the Covenant was once placed! We are seeking pastors and Christian ministry leaders to join the national leaders below to speak out in defense of this important link to the roots of our faith, and the urgency is great.  Please add your name, church/ministry and city to this petition in this organic collaboration of Christian leaders to preserve Joshua's Altar for future generations:
We, the leaders of many ministries and churches throughout the United States have heard the disturbing news of the partial destruction of the Joshua Altar and other biblical sites in the Holy Land.
These priceless sites are a heritage to all faiths. We condemn the destruction of these sites and view it as a crime against faith and history. 
We thereby call for our fellow clergy, civic and institutional leaders to publicly and strongly oppose these actions.
We the undersigned believe our duty as religious leaders with ancestral faith roots in that region require us to speak out and stop the destruction of biblical sites in the Holy Land. We call on our national officials in Congress, Presidential administration and State Department as well as the leadership of Israel to do the utmost within their power to stop the Palestinian Authority in the destruction of this holy site.
Initial Signers:
Dr. Jim Garlow, President, Well Versed Ministries
Rev. Rosemary Schindler Garlow, President, Schindler's Ark International
Dr. Steve Riggle, President, Grace International
Jack Hibbs, Senior Pastor, Calvary Chapel Chino Hills
Mat Staver, Esq., Founder and Chairman, Liberty Counsel
Dr. Robert Sloan, President, Houston Baptist University
Rev. Doug Stringer, President, Somebody Cares International
Rev. Dave Welch, President, U.S. Pastor Council
Hon. Sam Rohrer, President, American Pastors Network
Joseph Farah, Founder and Editor, World Net Daily
Dr. Rick Scarborough, President, Recover America Now
Eric Metaxas, Author and Host of The Eric Metaxas Show 
Dran Reese, President, The Salt and Light Council
Mike Evans, Founder, Friends of Zion
Jonathan Feldstein, President, Genesis 123 Foundation
William Owens Sr. President, Coalition of African American Pastors
David Barton, Founder, Wall Builders
Tim Barton, President and COO of Wall Builders
Hernan Castano, Senior Pastor, Iglesia Rios de Aceite, Houston
Khanh Huynh, Senior Pastor, Vietnamese Baptist Church, Houston
John Greiner, Senior Pastor, Glorious Way Church, Houston
Wendell Hutchins, Senior Pastor, Church of Champions, Houston
Benjamin Trevino, Senior Pastor, Mundo de Fe McKinney, McKinney
Carlos Torres, Senior Pastor, Ecclesia Port Arthur, Port Arthur
Dr. Ralph Holland, President/Founder, Ministerios Mundo de Fe International
Dr. Francisco Colop, Senior Pastor, Austin Cathedral Inc., Austin
Jose' Manuel Viquez, Senior Pastor, Mundo de Fe Mesquite, Mesquite
Hughes Jenkins, Bishop. New Abundant Life Church, Missouri City
Dr. Jose Luna, Senior Pastor, Light & Restoration Worship Center, Grand Prairie
Linda Villalobos, Pastor, CIFNA, Dallas
Jorge Avila, Senior Pastor, Mundo De Fe Tyler, Tyler
Tim Holland, Senior Pastor, Life Church Mundo de Fe, Coppell
Michael Hall, Executive Pastor, Hutto Bible Church, Hutto
Ronnie Holmes, Senior Pastor, Church of the Open Door, Waco
Jack Tompkins, Board of Directors, U.S. Pastor Council
Obed Jimenez, Senior Pastor, El Divino Redentor Asambleas de Dio, Inc., Mission
Bishop Frank Rush, Houston Praise and Worship Center, Houston
Christian Aranza, Senior Pastor, Valley Rise Church, Spring
Garrett Booth, Senior Pastor, Grace Community Church, Houston
James Buntrock, Associate Pastor, Glorious Way Church, Houston
James Clark, Senior Pastor, First Baptist Tomball, Tomball
Willie Davis, Senior Pastor, MacGregor Palm Community Baptist, Houston
David Fannin, Senior Pastor, Nassau Bay Baptist Church, Houston
Mike Gonzalez, Senior Pastor, House of Refuge, Pasadena
Magda Hermida, Senior Pastor, Magda Hermida Ministry, Houston
Richard Jennings, Senior Pastor, River of Praise, Tomball
Elmo Johnson, Senior Pastor, Rose of Sharon Baptist Church, Houston
Melvin Johnson, Senior Pastor, Heart of Christ Community Church, Brazoria
Joe and Becky Keenan, Senior Pastor, Gulf Meadows Church, Houston
Jerry Martin, Senior Pastor, Light of the World Christian Fellowship, Humble
John McCrutcheon, Senior Pastor, Joint Heirs Christian Fellowship, Houston
Emerson Morales, Senior Pastor, Power & Joy Temple, Houston
Kevin Rudolph, Senior Pastor,  Windwood Presbyterian Church, Houston
Oliver Stillwell, Senior Pastor, Dayspring Church, Humble
Joshua Tao, Senior Pastor, American Chinese Fellowship, Houston
Roberto Villarreal, Senior Pastor, La Iglesia Del Pueblo, Pasadena
Floyd N. Williams Jr., Senior Pastor, Antioch Missionary Baptist Church, Houston
Charles Bledsoe, Bishop, Victory Tabernacle Church, Waco
Donnie Flippo, Senior Pastor, Gospel Center Church, Beaumont
Charles Flowers, Senior Pastor, Faith Outreach Center, San Antonio
Mark Hartman, Senior Pastor, Sugar Creek Baptist Church, Sugar Land
Sterling Lands, Senior Pastor, Greater Calvary Bible Church, Austin
Joshua Ong, Senior Pastor, Church of the Living God, Houston
Jesse Pan, Senior Pastor, Chinese Lutheran Church,  Houston
Ryan Rush, Senior Pastor, Kingsland Baptist Church, Katy
Joe Salcido, Senior Pastor, Centro Vido Life Center, El Paso
Steve Washburn, Senior Pastor, First Baptist Church, Pflugerville
Rick White, Senior Pastor, Christian Fellowship Church, Beaumont
Jose Abed, Music Pastor, Edna
Steve Littlefield, Senior Pastor, Simonton Community Church, Simonton
Clifford Neal, Senior Pastor, Trinity Inc. Evangelistic Association, Brookland
Helen Blakenship, Bible Teacher, Encounters Church, Sugar Land
David Carreon, Senior Pastor, Jubileo Church, Round Rock
Dr. Jay Gross, Senior Pastor, West Conroe Baptist, Conroe
Dr. Keith Anderson, Senior Pastor, New Harvest Christian Fellowship, Pearland
Dr. Roger de Young, Senior Pastor, Christian Reformed Church, Houston
Douglas Walker, Senior Pastor, Legacy Church, Buda
Trey Graham, Senior Pastor, First Melissa and Israel By the Book, Melissa
Linda Bilton, Reverend, River of Life Christian Fellowship, Clifton
Mike McMahon, Senior Pastor, Fellowship Church of Hood County, Granbury
Nate Sprinkle, Senior Pastor, Calvary Baptist Church, Rosenberg
Debra Bragg, Teacher, SMI, Cypress
Pedro Torres, Senior Pastor, MCT, Grand Prairie
Carlos Murillo, Senior Pastor, Revive Minitries Church, San Antonio
Vincent Villareal, Senior Pastor, River of Life of Yoakum, Inc., Yoakum
Gidon Ariel, Director, Root Source, Maale Hever
Dr. Moses Adedipe, Senior Pastor, Christ Apostolic Church Revival Center, Houston
Dr. Craig Evans, Professor, Houston Baptist University, Houston
Frank Pomeroy, Senior Pastor, FBC Sutherland Springs, Sutherland Springs
Dr. Kenneth Lowry, Christian Winess Crusade Church Int'l, Houston